We offer a comprehensive methodology for a successful internationalization process. Our flexible modular system adapts perfectly to your company's specific situation and expansion goals. 
The EXPANDID approach combines best practices from several areas of expertise, including Project Management (PMBOK® standards), Market Analysis and Marketing Planning, Risk & Decision Analysis. 
The main pillars of the EXPANDID methodology can be summarized in the following modular system: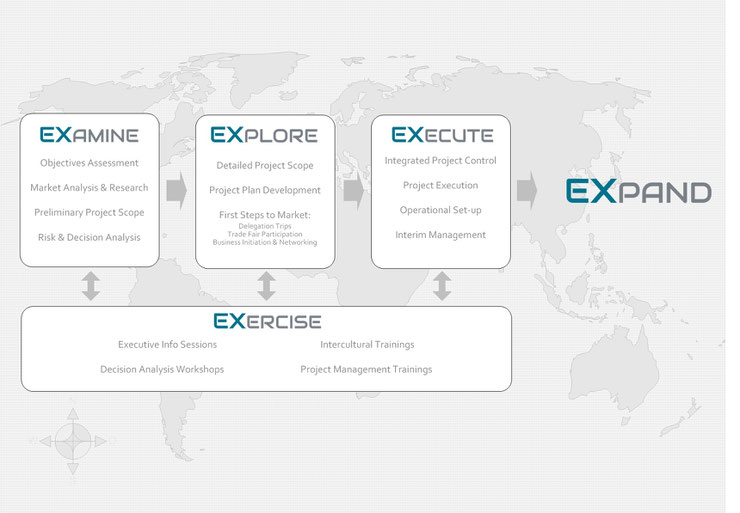 We initiate our assessment through a detailed interview process with your team. It is crucial to understand in detail the characteristics of your business, your objectives and expectations. 
Based on your input we assemble the Methodology Toolkit and develop a preliminary project scope which will guide us through the next steps.
Subsequently, we make use of traditional Market Research and Analysis techniques in order to gather relevant data for the target country and market.
Depending on the needs of the project we conduct customized qualitative market research, such as interviews with market players and governmental agencies, attendance of industry events etc.
To support your decision making process we match the obtained information with your economic expectations and risk profile by applying tools from Risk & Decision Analysis. In this phase our external non-biased viewpoint is important for objective evaluation.

The decision to expand has been made and we start preparations for the actual market entry. This includes detailing the Project Scope and elaborating the Project Management Plan which will be our guideline in the next phase.
At this point we also support you to initiate first commercial activities. This includes, for example, organization of delegation and business initiation trips, meetings with governmental and industry or trade agencies, participation in trade fairs and sourcing for business partnerships.
If desired, we offer to take active part in any of these activities.

Based on the agreed upon Project Management Plan and in close cooperation with your team we guide and manage, monitor and control the internationalization of your company, providing full support for your staff during the project's execution.
If desired we facilitate your operational set up through our network of service partners, including law firms, office centers, HR specialists etc.
In time-limited undertakings such as the creation of joint ventures or one-off multinational projects we offer our support as Interim Managers.

Your company is established and operative in the target country. The internationalization project is sucessfully concluded.
We conduct the Project Closure proceedings which include validation of the results as well as a critical review of the lessons learned during the expansion project.

Enhancing your team's professional knowledge and intercultural skills is a crucial factor for successful international activities. We offer a wide range of training activities adapted to the different stages of the expansion process such as: 
Executive info sessions and seminars about target markets
Intercultural trainings
Methodology and skills improvement on Project Management and related areas